A wedding in winter mixed between originality and enchantment
We are living in an unprecedented and special situation that is disrupting several plans, including the date of your wedding. The postponement of your wedding is faraway and the booking dates are all full… so why not get married in winter ?
It is true that in our customs we celebrate this event during the summer period because the climatic condition may lend itself to it better. It's in general one of the main points of the newlyweds to unite in summer rather than in winter.
Today we share you some ideas for a winter wedding and let you be seduced by this magic season.
Availability
First, you should know that at this time of year the availabilities are more important. You will have a wide choice for the booking of your date as well as reception area.
Providers who will support you before and during your wedding will be more present and will have more time to devote to you which also means : less stress.
Your guests are also generally more available at this time of year and therefore the opportunity to gather all your loved ones, it is a time where there is less travel except for the Christmas holidays and no summer holidays that could compromise their coming.
The places of reception
The choice of places is always important, even more if it is done in winter especially for the outdoors area.
Indeed, you need to think to some ideas to make the outdoor area warm in front of sometimes cold temperatures but this will give a charm and an originality to your wedding that is not to be neglected !
Pamper your guests and provide very thick wool or faux fur plaids, this will immediately give a friendly and cozy spirit.
Why not create a very cocooning place with an outdoor fireplace, marshmallow available and share memorable moments.
 Enjoy the outdoors and bring a touch of originality with bubble igloos, guaranteed effect.
Animations
So that your wedding remain a long time in the minds and avoid seeing bored guests, set up animations. Getting married in winter is a good opportunity to bring originality and discard déjà vu.
Children and adults will be seduced to discover a hot chocolate bar, suitable for the season.
A wedding in winter would not be the same without a mulled wine bar, these heady scent will be in perfect harmony with the winter atmosphere.
To stay in a warm setting, the must-have guestbook can lend itself to the theme of the evening by offering guests to write or even draw on a wooden log and deposit in a glazed urn. The bride and groom will be happier.
Credit photo – Pinterest
The at

mosphere

Getting married in winter is an original choice. We can play on textures: wood, wool, faux fur or objects like pine cones, fir branches… play with the cozy side by adding garlands, candles, which will warm the atmosphere.
Choose two or three colors from the winter palettes for a good homogeneity but also relief, such as: off-white, pastel blue, grey, raspberry, fir green or brown.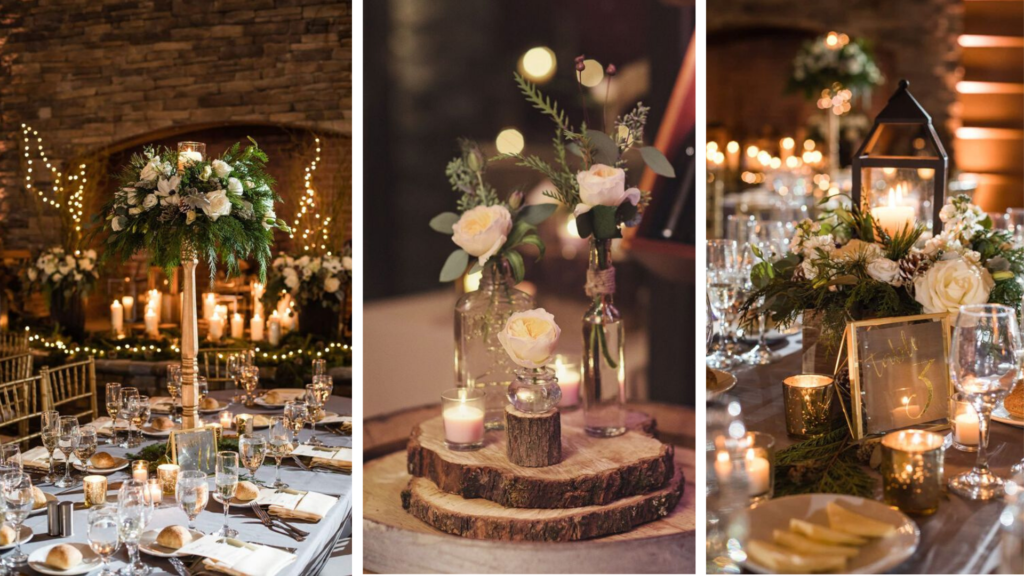 Credit photo – Pinterest
There are so many ideas to make this magical and unique moment and it is certain… to make a difference !
So if you are also seduced, do not hesitate to contact us now!