The fateful question of a meal is open! Impossible to miss the buffet, long awaited by your guests! Take advantage of the new trends with a theme bar, whether during the wine of honour or the evening party, they will be there to satisfy the most greedy.
Crédit photo – Pinterest
Greedy bar
This is a bar that will seduce both young and old. For more fantasy, vary the pleasures and tastes by adding sweets, salts, colourful… In addition, the theme bar will match your decor. This will energize the atmosphere and bring conviviality to your cocktail or wedding dinner.
Cheese bar
This bar will enchant the taste buds of local lovers, with thousands of varieties of existing cheeses, just in France, you will have the choice to make a nice selection. Accompanied by tapenades or fresh fruits, this original bar will be perfect for your wedding!
Crédit photo – Pinterest
Bar with fruit/ vegetable
You are rather healhty ? Don't panic! This bar with small vegetables to nibble or for dessert with fresh fruits is perfect for you!  The possibilities are endless: raw, cooked, marinated, in foam or in smoothie. The ideal bar in summer time!
Crédit photo – Pinterest
Sushi bar
Japanese traditional food is popular at receptions. Sushi is both light and appetizing, which is why it will give your reception an original touch! Makis, california rolls or sashimis, there's something for everyone.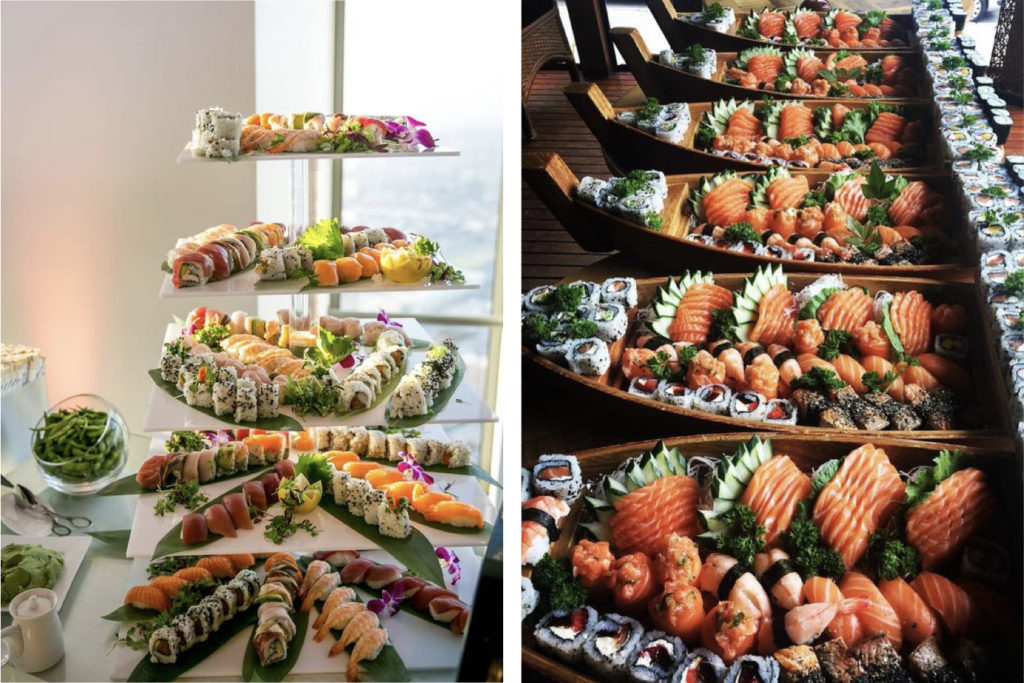 Crédit photo – Pinterest
For more informations, please contact us !